Paul Fleming only did one interview on the new Paul Martin's American Grill, and here it is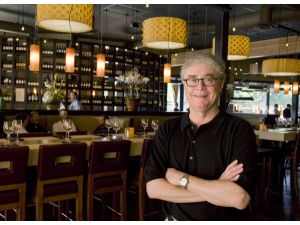 from The Orange County Register, by Nancy Luna.
"The founder of P.F. Chang's China Bistro and Fleming's Prime Steakhouse & Wine Bar opened Paul Martin's American Grill at the Irvine Spectrum Center on Monday. The farm-to-table concept is the third restaurant to open in California, and the first in Orange County — a market that has enthusiastically embraced Fleming's restaurant brands.
At Paul Martin's, Fleming and business partner Brian Bennett hope to lure diners with seasonally influenced, made-from-scratch dishes at prices considered affordable for premium foods. Appetizers and entrees at the upscale establishment are priced from $8 to $32 and feature hormone-free beef products, air-chilled chicken and produce from local California farms.
"I know you hear a lot of about farm-to-table, and it is [an] overused [term], but we are serious about it," said Fleming, who is moving to Orange County later this year.
Fleming and Bennett, who launched the first Paul Martin's bistro four years ago in Roseville, gave me an exclusive interview last week in Irvine. They discussed the vision behind the eatery and how the economy has impacted Paul Martin's first two California restaurants.
Q: How is Paul Martin's different from any other restaurant you've done before?
Fleming: We live in Northern California and we have access to this fabulous product. Great oysters. Seasonal vegetables and fruit. Free-range chicken. Line-caught fish. Natural beef. That's what Paul Martin's is all about. It's how we eat every day, and how we cook at home.
Bennett: We are a from-scratch restaurant. We hand touch, and hand make everything with the exception of the bread. I use the word love, because there's so much love in [the food]. It's truly an old-style kitchen.
Q: Would you label yourself an organic restaurant?
Bennett: No. Our food is sustainable, local first and organic. But there are a lot of small farms [we source that] are not organic. It's so expensive to be organic certified.
Q: Who is Paul Martin?
Fleming: It's just my middle name. I'm a ham. I know.
Q: The first two Paul Martin restaurants are called "bistros" but this Irvine location is called Paul Martin's American Grill. Explain.
Fleming: As we got into it, the public spoke. We thought we'd have more roasted dishes. They [diners] wanted grilled vegetables, fish, meats. The burgers are also grilled. So, we put grill [in the name] instead of bistro. It's just what the public wanted.
Q: Can you talk more about the grilling options?
Bennett: We have flat grills for searing, and mesquite grills. We doubled the size of the mesquite grill here [in Irvine]. (Some of the mesquite grill menu items include fish tacos made with homemade tortillas, chimichurri chicken, St. Louis style pork ribs, marinated skirt steak, jumbo prawns, double-cut pork shop, steak and swordfish.)
Q: Why did you pick Irvine for your third California location?
Fleming: I like the [Orange County] market. Our first Fleming's was here. Our second and third P.F. Chang's were here. We wanted to go to a business-friendly environment. The landlords aren't giving the space away, but they are reasonable people. They (the Irvine Co.) market well. We like the demographics.
Q: Describe the diners expected here.
Fleming: It's people that like outdoors, and we think have a little more health bent for the food we are serving.
Q: What food trends do you see and how are they reflected on your menu?
Fleming: I was very close to Ruth Fertel, who started Ruth's Chris [Steak House]. She had a great saying, "People talk one way, and eat another way." And it seems as if people are starting to eat like they talk right now. That means better product, seasonal, grilled foods, less fats, and less cream.
Q: Can you do this without sacrificing flavor?
Fleming: We are trying to have a lot of those (healthier cooking) benefits, but also have tasty food. We're not shooting for dishes with 320 calories or less or whatever these other guys are doing out there. We are trying to get intense great flavors. We use a lot of French cooking methods.
Q: What are your favorite dishes on the fall menu?
Bennett: The grilled fish is my No. 1, but my new favorite is the lamb meatballs with the white beans. It's fresh lamb. It's ground and the meatballs are made in house. It's a different way to serve lamb. (CLICK HERE to see photo of dish)
Q: Going sustainable and organic comes at a hefty price. Can you talk about pricing on your menu?
Fleming: There is a lot of pressure to sell food at a reasonable price. We want to be a value-oriented place, but we are going to this wild extreme to have all this fabulous product. Luckily, we're getting a little (help) and leverage on procurement. That's one of the things that will keep us from growing — the food product is so high.
Q: How has the recession impacted your first two restaurants?
Bennett: We just haven't raised prices.
Fleming: The economy is a mess, to say the least. I think everyone is much more value oriented than they ever were. People are scared to death about their jobs right now, so it has affected us tremendously. We don't do as much corporate business as we thought we would. But we see more guys coming in drinking a beer with their hat on backwards.
Q: Did the tanking economy force you to change your game plan?
Bennett: We had deep discussions on how to provide value to the guest. How can we deliver the quality we want and still grow our business?
Q: Is that how the three-course $30 dinner came about? (Includes appetizer, entree, dessert)
Fleming: Yes. Every night of the week, you can get a choice of three or four items. (Main entree prices range from $19 to $22). It's like the best buy in the history of man. This kind of deal, along with Happy Hour, it really saved our business.
Q: Do you plan to build more restaurants?
Fleming: We are very hesitant to grow right now. But we're not so scared to do a couple of restaurants. Hopefully we are at the right price point and the right concept for this economy."
Paul Martin's American Grill is located at 31 Fortune Drive, #302, in Irvine. 949-453-1144 for reservations.