Join our email list and periodically we will send great recipes from our Chef's like these: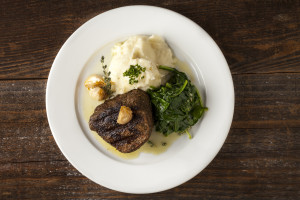 Featured Recipe: Mesquite-grilled Filet Mignon with Roasted Red Bliss Potatoes and Bloomsdale Spinach
Filet Mignon
6 oz. Meyer Natural Angus filet mignon
(per person)
Fresh ground black pepper
Sea salt
Season filets liberally with sea salt and fresh ground black pepper. Prior to grilling, ensure grill is seasoned properly, brushed and lightly oiled. Grill filets 6-8 minutes on high direct heat (medium rare to medium depending on thickness), and check with thermometer. Let rest 3-4 minutes before slicing.
Chef Note – The meat will be more tender if left out at room temperature prior to grilling. When grilling, view the grill as a clock and use the 2pm-10pm method. Sear filets for 2 minutes at the 10pm position, 2 minutes at the 2pm position and repeat.
Roasted Red Bliss Potatoes
2-3 small potatoes (per person)
3 tbsp olive oil
1 tbsp fresh chopped rosemary
2 tbsp sea salt
2 tsp black pepper
Scrub potatoes clean, cut into quarters and combine in a bowl with olive oil, rosemary, sea salt and black pepper. Place seasoned potatoes on a sheet pan, preheat oven to 450⁰F and cook for 20-30 minutes. Since all ovens operate differently, check potatoes after 18 minutes and adjust temperature, if needed. Potatoes will be golden brown on the outside and tender inside. Serve in a bowl and finish with more fresh rosemary and salt.
Organic Bloomsdale Spinach with Blue Cheese
2-3 oz. or 2 packed cups of organic Bloomsdale Spinach (per person)
1 tbsp minced shallots (per person)
1 tsp sea salt
2 heaping tbsp Point Reyes Blue Cheese (per person)
Extra virgin olive oil
In a large pan over medium-low heat, sauté the shallots in extra virgin olive oil until translucent. Add the spinach and sea salt, and with two large spoons, carefully toss the spinach until slightly wilted. Add the blue cheese and continue cooking briefly until the cheese starts to melt. Transfer quickly to a bowl for serving.
Before starting, it is recommended to read through all recipes and procedures first, and then assemble your ingredients and equipment lists. It is also helpful to prepare the recipes and procedures in a numbered sequence, to help time the items when they are finished, i.e. when potatoes are half-cooked begin the filet, when the filet is resting cook the spinach, etc.
Always purchase the best possible ingredients and remember to check your seasonings throughout for taste. Cooking is meant to be an enjoyable process, so have fun experimenting with additional condiments such as grated horseradish, roasted garlic, whole grain mustard, or any other seasonal ingredients.
Enjoy!